October 24th, 2011
news, rpg
I'm happy to announce that I will contributing to Clint and Cassie Krause's upcoming colonial America folklore RPG Don't Walk in Winter Wood.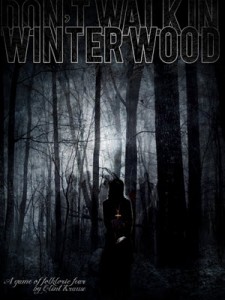 The official description:
Are you ready for a walk in the woods?

Don't Walk in Winter Wood is a storytelling game of folkloric fear. Players take on the roles of hapless villagers who must enter a legend-haunted forest and uncover its sinister secrets. The game uses simple rules and a unique narrative style to help you create spooky stories with your friends. It includes:

Legends of Winter Wood: The dark folklore surrounding Winter Wood and its neighboring village.

Game Rules: Easy-to-learn rules designed to be playable around a campfire. Recommended for 2-6 players in search of the willies. Playing time averages about 2 hours.

Advice: Tips on running games of folkloric horror, building your own scenarios, and creating a memorable, spooky atmosphere.

Scenarios: Three ready-to-run scenarios set in Winter Wood. Desperate villagers strive to save a girl hexed by a long-dead witch in The Curse. A mischievous children's dare leads to an encounter with The Strangers. Rumors of a skinchanging beast haunt the village in The Witchery Way.

This is the revised and expanded second edition of the game featuring all new layout and artwork by George Cotronis, new legends, new rules clarifications, and new adventures. It is the definitive edition to add to your game library.
Originally released in 2004, the second edition of the game expands on the old ruleset and includes folk tales/story hooks from Jason Morningstar (Fiasco), Daniel Bayn (Wushu), Jeremy Keller (Technoir), Rafael Chandler (Dread), Daniel Moler (Red Mass), and me!
A Kickstarter for the project is still running for six more days. You can get in on the new edition early and secure yourself a shirt, a poster, and your name in the book. Check out the video below to see if this is something you might be interested in.
I hope you consider throwing some support behind the game. From what I've read, this is going to be a great game. I look forward to seeing the final product.
No Comments »