August 25th, 2014
news, rpg
I realize it's been a while since I updated the sidebar on stuff I've done recently so I thought I'd do that and spotlight a couple things in a post as well. If you've paid any attention to the 2014 Plan on the left (and I know you all check it daily), you'll see some of this reflected there. I'm breaking this into two posts with this second one focused on Streets of Bedlam releases.
Streets of Bedlam
I've released a pair of new supplements for my Savage Worlds setting Streets of Bedlam recently but figured I'd spotlight all four that have never made it over to this page. First things first.
SoB Stories #1
SoB Stories are standalone episodes that were funded by the very successful Kickstarter I ran back in 2012. Five total planned with the first one below and the second one due out this week.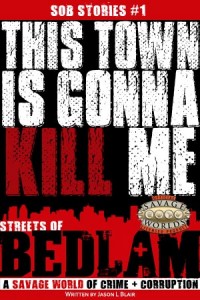 "Y'know, I didn't really understand what folks meant when they said no good deed goes unpunished, until I heard the story of Dory Brooker. You familiar? Aw shit then, pull up a chair. C'mon, buy me a round and I'll fill your ears with one helluva tale."
One year ago, a well-meaning citizen talked a mild-mannered accountant out of throwing herself off the roof of her apartment building. When that same citizen goes missing, the accountant looks for help in finding the man—not knowing just how many people want her savior to disappear for good.
A Bunch of SOBs
When I have a cool acronym, I like to milk it. The Streets of Bedlam setting makes use of character templates called Archetypes. The book contains a lot but I wanted to give as many options as I could so I decided to release more. The first two were part of that Kickstarter campaign and the third came along later. I have a fourth in the planning stages that I'd like to see out soon.
No Comments »