September 2nd, 2010
essays, rpg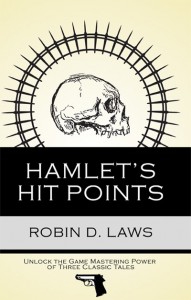 A couple months ago, I had the honor of proofreading Hamlet's Hit Points, the new work by esteemed game designer Robin D. Laws. In the book, Robin discusses how stories work and codifies the aspects that you find over and over again, the pillars of storytelling. He also dissects three classic stories in very different genres (Dr. No, Casablanca, and the titular Shakespearean work) by putting his code into practice. And all of this is done with an eye toward tabletop gaming.
Gameplaywright, of The Bones and Things We Think About Games fame, released the book at GenCon and it quickly sold out. If you have an interest in stories, games, and especially stories in games, and you missed your chance to get it at GenCon, you can get the book now straight from the publisher.
I'm always looking for solid texts on story and this is a good one. That it's by a designer I know and respect makes it that much better.
No Comments »