November 17th, 2017
fiction, news
I published a book! A book I've been wanted to get out for ten years. Introducing the first book in the Little Fears Middle Grade fiction line: The Wolf Pact. Here's a cover!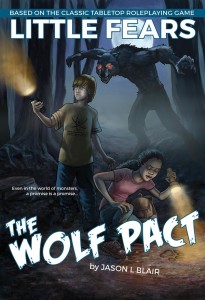 About The Wolf Pact
Eleven-year old Nate Torrance is alone. His best friend, Darren, no longer talks to him. His mom works all the time. His dad lives out of state and never calls. He's pretty much given up on the whole idea of "friendship" until an encounter with a monster gives him a common bond with Jennifer Mills, the new girl in his class. When Darren's little sister, Lindsay, is abducted, the two set out to save her—and discover an unexpected truth behind the monster they're hunting and the place where all monsters live: Closetland.
How you can get it:
Kindle version on Amazon.
PDF and eBook version on DriveThruRPG.
Physical copies will be coming soon.
No Comments »