July 23rd, 2012
fiction
Starting a new job, working on two pen-and-paper game lines, selling a home, and moving out of the state are taking up a lot of space in my calendar so this isn't the timeliest of updates but some pretty prestigious lights were shined on some fiction anthologies my work appears in.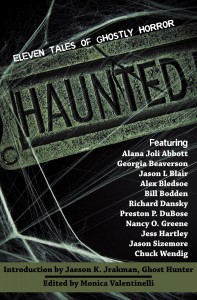 First, acclaimed author and editor Ellen Datlow called out Alana Joli Abbott's "Missing Molly" and Preston DuBose's "The Angry Stick" as honorable mentions in the latest volume of Best Horror of the Year. Those two stories were published in Haunted: Eleven Tales of Ghostly Horror last year. I'm pleased that my own story, "It Happened in the Woods at Night" shares pages with both. Huge congrats to Alana and Preston!
Second, the wild western-wuxia fiction anthology Tales of the Far West, which includes my story "Local Legend," has been nominated for Best RPG-Related Product in the 2012 ENnie Awards. Congratulations to Gareth, TS, and everyone else involved. It's a great collection of stories. ENnie voting is public, if you'd like to check out all the nominees and voice your opinion.
Congrats again to everybody! If you're a fan of new voices in fiction, I hope you'll check out both of the books.
No Comments »