About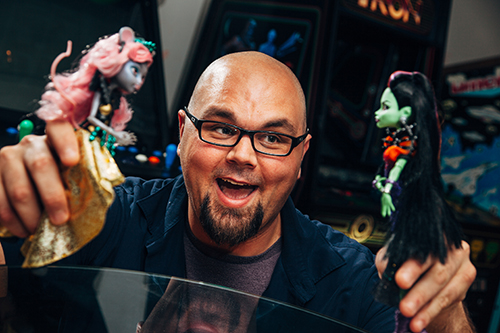 This is the bio I send out to anthologies and whatnot:
Jason L Blair has been a fiction writer, game designer (video and tabletop), scriptwriter, comic book author, graphic designer, book publisher, poet, and amusement park ride operator. He is an IGN Best Story of 2011 Award Nominee and won't shut up about it. He is currently Lead Writer and Narrative Director at Deep Silver Volition on the upcoming open-world action game Agents of Mayhem. You can keep tabs on him at JasonLBlair.com. (Bumper cars, if you're curious.)

This is the longer, first-person version:
Folks have said repeatedly that no two creative paths are the same and that bit of wisdom has held true for me. I started out as Editor-in-Chief of Key 20 Publishing. While there, I led the design, writing, and publication of the Origins Award-nominated Little Fears – the roleplaying game of childhood terror, which was released in Summer 2001. That kicked off a nine-year long career in the game writing and design field that has allowed me to be involved in a lot of great projects. I've been everything from division director to lead writer to lead designer to art director to print liaison to layout artist, and I've worked on card games, board games, video games, roleplaying games, comic books, even a book of poetry. My particular creative path has been nothing if not interesting.
I specialize in story development, screenwriting, script doctoring (with a focus on dialogue), and fiction. I am currently working with the wonderful folks at Deep Silver Volition, the developers behind the Saints Row series. It's an amazing opportunity to work with blindingly brilliant minds on titles that put fun first.
You can view a list of my published works here.